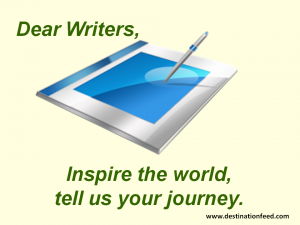 Freelance Writers are welcome to contribute your journey and experiences with us.
Submitted article should be:
Content must be 500 to 1,500 words and originally written by the owner.
Resource/back link is allowed with the article if there is any.
Submit a writer's profile that best describe you in 50 to 100 words, for "Writers Profile" Menu and your bio at the end of your published article. You can include a link of your social site too.
Send your contribution to managing_editor@destinationfeed.com.
Article submitted is subject for editing and proofreading before publishing.
Category Contents you can choose from (see below):
Category Contents:
FINANCIAL FEED:
On Break Free from Debts – share with us your struggles and victory in conquering debts. What actions you did in order to break free from it?
On Business Tips – how do you able start-up your business? What are the experiences that you go through that makes you what you are today or starting or halfway towards your goal of being one. For Business Mentors, on paying it forward with your rich business. Write for us and help inspire and change the world.
On investment Tips – tell us your journey… what made you decide to invest? What are the steps that you did or currently doing on investing your hard-earned money.
On Savings Tips – I'm sure there are 1,001 ways out there that you are currently practicing. Tell us here and inspire others to do the same.
ENVIRONMENTAL FEED:
Climate Change Response – share with us your environmental involvement in order for us to have a cooler planet and the earth is livable for the next generation to come.

On Reducing Risk and Reducing Carbon – share with us what you are doing at home, work and the community where you are now. We can't predict the impact you will have on this planet once what you are doing can be done also in other parts of the world. Inspire people to take concrete action with your stories.

Earth News – tell us the latest environmental news right where you are.
Let us protect our Land, Sea/Ocean, Animals, Food, Rainforest and Water source – share with us your work on the ground, simple ways that we can do to ensure ecological balance of our planet – our only home. Every little ways that we can do simultaneously will produce big results.
DISCOVERY FEED:
Food Trip – food lovers; share your thoughts and journey with us. Where to find the best place to dine out around the world… from fine dining to street food.
Vacation Getaway – lovers of the road, sky, land and sea… share with us your story as you discover our amazing world. At the end, content should include:

Primary Transportation at touchdown,
Must see and do,
Suggested Accommodation (for budget conscious traveler and for those who can splurge)
Must bring home (goods or souvenir)
Where to shop
Where to eat best (for budget conscious traveler and for those who can splurge)
Best month/time to visit
Entertainment places
Historical landscape
Must try
Accepted Currency

Travel Tips – let us know the do's and don'ts while we plan our every destination. Tell us the fun of travelling with ease.
ENRICHING FEED:
Full Time Builders – people who works full-time for a certain organization that helps build a better world. Tell us your story, inspires us to connect once more with the humanity.
On Volunteerism – you have a powerful story to tell. What motivates you to volunteer? Inspire us to do the same. If your story can inspire one, then rippling it to the world would be much easier.
See About Us and Links below of sample Post Content:
Four Surprising Steps On How To Control Your Cash 
8 Practical Ways On How To Reduce our Carbon Footprint
How A Volunteer Got Her Summer Adventure For A Lifetime
This is your story. Your desired destination. Spread the love.
-DestinationFeed-