By: George Conradie
Trips over seas are too expensive if you really want to go long enough to make it worthwhile. That used to be my opinion anyway. How wrong I was. There are so many places to visit which, depending how you travel, are as cheap as they are fascinating and topping the list for me is Thailand, the first foreign destination I ever visited and I returned several times after, because one trip simply do not allow you to properly experience all this amazing country has to offer.
If you are on a limited budget and want to see and do as much as possible without breaking the bank, I hope the following experiences I share will help, at least to some degree. It is of course impossible to discuss all the interesting locations in Thailand in one article, so I selected three of the most popular ones all located close to another. By combining these three locations you will spend minimum time in transit and will inevitably also see and experience many other areas in the process.

Bangkok
If you have not been to Bangkok you have not been to Thailand, it's just a fact. Whether you are a history and cultural enthusiast, shopaholic or big time foodie, Bangkok will leave you with lasting memories. Here is how to get in and out the city cheaply, how to get around cheap and what not to miss.
Assuming you arrive by air at Bangkok International, you will encounter taxi operators as you exit the airport gates and also outside the terminal which will cost you anything from 800 to 2500 Thai Baht for a trip into the city. If you are not carrying tons of luggage, rather go down to the airport's lower level and buy a ticket for the airport rail link at 90 Thai Baht. It will take you anywhere in the city and also connect with the sky train and underground.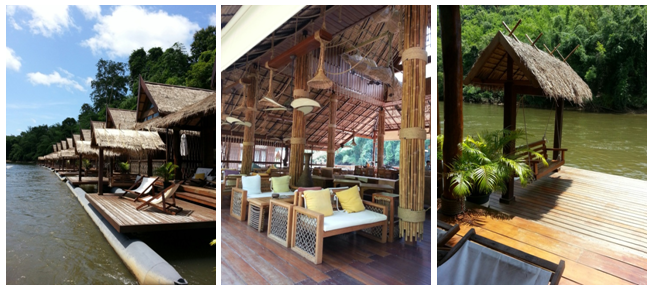 Where to stay
If you are a backpacker and not too fuzzy about your accommodation, head for legendary Khao San Road. For those of you who saw the movie "The Beach" will remember Leonardo Di Caprio staying there. Don't start to panic, it has gotten better since, but it is still dirt cheap (excuse the pun). In Khao San Road you can find a clean room with all the basics for as little as 600 Baht (30$US) per night breakfast included and you will meet up with like-minded people. Even if you are not exactly a backpacker, Bangkok has countless hotels which are basic, but clean and comfy at rock bottom prices. Here is a tip though; even if you go for the cheap hotels, don't just walk in and ask the price like most backpackers do. It's called a "walk-in rate" and will cost you much more as opposed to booking in advance. Check out local online businesses like www.hotelsphuket.travel to save on accommodation.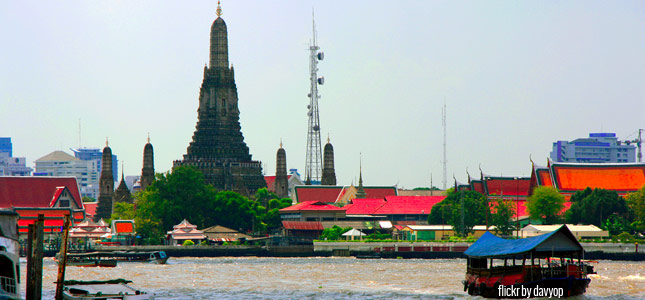 How to get around
This really applies to any location in Thailand, not just Bangkok. First off, though not always the cheapest, you are going to want a ride in a tuk tuk. They can take you almost anywhere in the city, but the important thing to remember is to negotiate your price before getting on, or risk paying the driver's price when getting off. Skip the taxis, because the most cost effective way to travel is the sky train or underground or, an even cheaper and more fun way of navigating the city is by hopping on a local river boat. The famous Chaophraya River and its canals criss-cross a big part of the city at a few cents and there are several piers close to attractions at which you can get on and off.

What to see
Bangkok is rich in historical and cultural attractions and one you should not miss is the Grand Palace, which by the way is located on an island in Bangkok called Rattanakosin Island. This is in fact where the Bangkok we know today started.  The city has more than 400 wats (temple compounds) including Wat Phra Kaew, or Temple of the Emerald Buddha which is located inside the grounds of the Grand Palace, what Pho or temple of the famous Reclining Buddha and what Arun or temple of the dawn. The latter is especially nice to see during a river cruise when it is lit up at night.
Of course everyone has heard of the floating markets. The best ones to check out in my opinion are Damnernsaduak and Amphawa markets, both just over an hour outside the city. These two are the oldest markets, so it's more authentic and therefore my favourites.
Make a point of visiting pulsating China Town. If you have a taste for exotic food you will find the narrow streets lined with restaurants a cheap and flavorful place to eat. There are also many markets and the small alley ways are home to jewelry shops and all kinds of merchants selling interesting stuff.
Bangkok is also famous for cheap shopping at its huge street markets, but you cannot hope to visit them all.  Chatuchak is the most famous and biggest street market in the world. But I suggest you visit the Suan Lum night market. This was a better experience for me since Chatuchak is too busy and hot during the day and it is also only open on weekends. Suan Lum is open every evening, it is gigantic and has cool little places to eat at.
Three hours from Bangkok is Kanchanaburi and your cheapest way of getting here from Bangkok is by train. Kanchanaburi is known for its exotic nature scenes of rain forest, waterfalls and rivers, but it also has an interesting yet tragic historical connection to WWII. You should visit the Bridge over the River Kwai built by P.O.W's; take the train along the death railway and around Hell-Fire Pass. To allow yourself enough time to properly explore the area's nature , do some elephant trekking in the jungle and also some river rafting, stay over a night or two in one of the floating river villas at The Floating House Resort on the Kwai River. It's cheap and it's an awesome authentic experience.
Where to Eat
Again, this applies to all areas in Thailand. It would be ridiculous to mention specific restaurants, so the idea here is to tell you where to eat cheap tasty food and the answer is simple, eat at the markets and seek out the small restaurants where the locals eat. Many westerners are weary of street food in the east, but the fact is you are more likely to get food poisoning at a restaurant than from buying food off the street. Street food simply does not have time to spoil. A good meal does not have to cost you more than 30 Thai Baht (1$).

Pattaya
Pattaya is a sea-side city only 2 hours from Bangkok by bus so it's quick and easy to reach. Don't buy your bus ticket from tour operators in Bangkok. Go down to Bangkok's Ekamai Bus Terminal where a ticket will cost you 130 Thai Baht ($4) one way. Once again, book your hotel accommodation in advance to save some cash. Some of the best cheaper hotels in Pattaya include The Bayview, Green Park Resort, Ibis and The Sawasdee. Again, talk to local operators who know the area well about your accommodation needs in advance and get the best deals in the process.
In terms of getting around there is of course no sky train here and your best, safest and cheapest transport option is a songthaew (also called a Baht bus). It is basically a pick-up truck with 2 wooden benches in the back and a cover for the sun and rain (song in Thai means two and theaw is bench = Songthaew). They are everywhere, also on the islands and, depending on the distance of your trip it could cost you as little as 20 Thai Baht (70 cents US).
Pattaya's nightlife, especially the "Walking Street" area is raunchy to put it mildly, so don't go if you live on the conservative side of life. But this city has many sides to it and can even be a family friendly destination. There are several beaches and the things to do are endless. Apart from Walking Street with its go-go bars, coyote bars, clubs and massage parlors you should also not miss visiting the elephant camp and watch the elephants playing soccer, take a trip in a real yellow sub-marine, check out the local floating market, visit nearby islands in a glass bottom boat and check out the "Under-Water- World Aquarium" where you can scuba dive with the sharks. If you like an adrenaline rush, go jet-skiing and kite boarding on Jomtien Beach. A new attraction is the Coliseum, a huge replica of the one in Rome. Only this one is a theatre where you can check out the famous transvestite cabaret shows.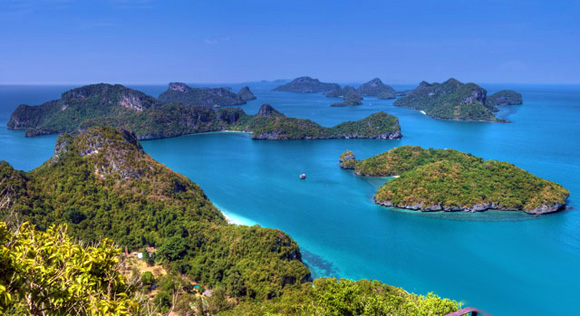 Koh Samui
Koh Samui has a lovely island style designed airport, so you could get here from Bangkok by air within 90 minutes. Needless to say it is also the most expensive option. My advice is to make the trip a more memorable experience at a fraction of the cost of flying. Go to Bangkok's Hualampong station and buy a ticket for the over-night sleeper train from Bangkok to the port town of Surat Thani. Then catch a bus to Don Sak Pier the next morning.  This way you see some of the country-side. At Don Sak Pier you can buy a ferry ticket at a few hundred Thai Baht for the 2 hour trip to Samui Island.
Where to stay in Samui
Koh Samui has countless beaches, but if you want to be in the centre of the island's nightlife scene, close to markets and shops and, be on the island's best beach you need to book your hotel accommodation in Chaweng Beach. You will find resorts in this location ranging from cheap backpacker lodges to 5 star hotels and private pool villas right on the beach. Lamai beach is another option if you enjoy the nightlife, chilling at beach bars, eat at an assortment of restaurants or simply buy food from street vendors. If you like things more exclusive and laid back, Choeng Mon Beach, romantic Hanuman Bay where resorts like Akaryn Samui is located, Bophut Beach and Taling Ngam are all very relaxed.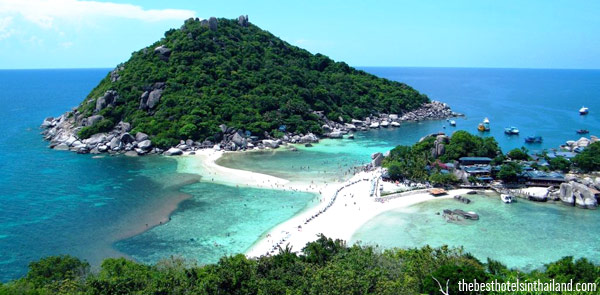 Things to do
As mentioned right in the beginning, one of the really cool things about Bangkok, Pattaya and Samui is the close proximity of other areas which you can visit. From Samui it is a 40 minute boat ride to Phangan Island and will cost you only 150 Baht (5$US). Phangan hosts the monthly full moon party on Haadrin Beach seeing thousands getting together for a night of hard core beach reveling. The cool thing about Phangan is that it has kept its natural charm due to the limited number if big hotels and though there are a few 5 star resorts, the best beachfront locations are not reserved for them only. Check out Bottle Beach which has an almost iconic status and book a hut right on the beach for a few pennies.
Another nearby location you should visit while in Samui is Koh Tao Island, 90 minutes away by boat. It is a small island, but it is the premier scuba dive destination in South East Asia. Right next to it is the tiny Nangyuan Island which many believe to be the most beautiful island in the world.
Back on Samui the choice of activities are endless. Apart from Chaweng's nightlife and chilling on the beach, make sure you don't miss the following:
Go on a jungle hike and visit the island's waterfalls
Check out the mummified monk
Check out Hin Tai and Hin Yai (Two rocks naturally sculpted like the male and female genetalia and situated right next to each other)
Visit the Ang Thong Marine Park which consists of more than 40 small, uninhabited islands huddled together just of Samui's shores. It will be the most incredible snorkeling you ever do.
Go elephant trekking in the jungle
Go do some tree top rides. You will be suspended from a harness high in the tree tops of the island's jungles, sliding from tree to tree.
Do ATV adventure rides with a quad bike.
In conclusion  
Whether in popular tourist locations or off the beaten track, Thailand is an interesting place to discover and lots of adventure is to be had so much so that an article like this cannot really do it justice. My advice is to go and experience this amazing place first hand.  In our next article we will discuss Phuket and other nearby locations of Thailand's Andaman Sea Cost, the amazing things to see there, best hotels to stay if you want cheap, but comfy accommodation and how to save on your traveling.
Photo Credit:
  Provided by the Author
  _______________________________________________________________________________________________________
Author:
George Conradie
 – writer and an expat living in Thailand and connected in the Tourism industry. _______________________________________________________________________________________________________
Tags: backpacking in Thailand Bangkok destination discover Thailand explore Thailand Thailand Thailand destination travel travelling vacation vacation getaway vacation places where to stay in Thailand