When God give away natural beauty and bounty
The Philippine Islands happened to be seated in the front row..
Breathtaking landscape, beaches, mountains.. hidden springs… corals… reefs..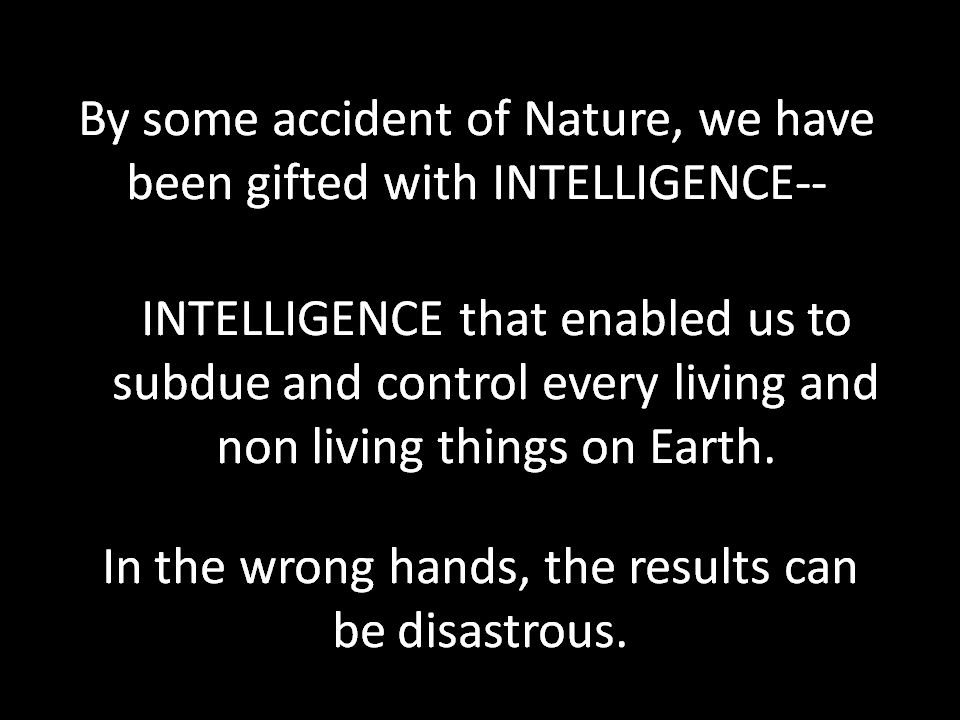 Flooding is water in the wrong place.
80% of the World's forest are gone.
The tree is the climax species of the plant kingdom –
as man is the climax.
Who will speak for the trees?
Dear Flower, beautiful flower, once plucked, gone Forever.
Water is the elixir of LIFE.
and Only when we have cut all our trees, fished all our seas and poisoned all our rivers,
we will suddenly realize that we cannot eat MONEY.
The scales of justice now tilt into economics and materialism.
Can the law help make it tilt to favor the Earth?
The problems of the world maybe summarized in two words: TOO MUCH
Too much is taken from it..
Too much is put into it…
The secret to the needed mind-shift lies in the untapped energy and ingenuity of the Youth.
IF MAN IS THE PROBLEM.
MAN IS THE SOLUTION.
Man is a guardian of the natural creations. A trustee of the Great Trustor.
As a responsible steward, he must exercise due care as a good father of the family life.
Credit to Atty. Antonio Oposa
Resource:
This video is originally shared to us last GK Bayani Challenge 2011 in Bantayan Island, Philippines where in our group is participating in Island Greening activity and eventually shared to me when I handle the Green Kalinga Program of GK (Gawad Kalinga – in Negros Occidental. By uploading this video, I am hoping that anyone who have the chance to view this will somehow open their heart and eyes that its time, to take care our Planet, our HOME.
Share this quote in FACEBOOK: (click the link below)
"Only when we have cut all our trees, fished all our seas and poisoned all our rivers, we will suddenly realize that we cannot eat MONEY."
Tags: climate change destination earth environment environmental gawad kalinga mother earth problem of the world too much trees water