By Guest Author —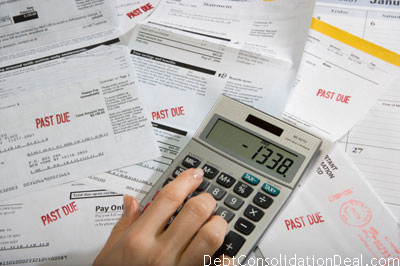 It's astounding how many Americans are in debt. It's reported that around 80% of American adults have some form of debt. These debts more so apply to car and house payments. If you take these debts out of the mix, about 50% of Americans owe some form of debt. Half of that amount are required to pay amounts that reach the thousands. These statistics are disheartening and seem to indicate that Americans could be managing their money more wisely. Although some debts such as hospital bills, school loans, and car and house payments are inevitable, personal financial deficit is something to be avoided. Follow these tips from Hope Credit Solutions on being debt-free.
Budget
Remember that budgeting is key in dodging unnecessary financial burden. Prioritize your spending. Understand what expenses and are fixed and necessary. An example of a fixed expense is your mortgage payment, which remains the same from month to month. Many forms of insurance such as health, car, and life are fixed payments. Know where you can cut back to save yourself some dollars. These are known as variable expenses. You set these rates so they may be changed on a monthly basis. Your grocery bill is an example of variable expense. Be sure you maintain your finances monthly. Set realistic spending goals for yourself and evaluate them when you reach the end of a 30-day period.
Credit Cards
About 80% of Americans have at least one credit card. Credit cards can be a blessing or a burden. As a blessing, it offers a way to receive cash back and other rewards, plus you're guaranteed more security and protection with this method of payment. Many have credit cards so they can build a credit score. As a drawback, credit cards can lead to thoughtless spending and insurmountable interest rates. So if you intend to use plastic, use it wisely and have a plan. Make payments right away so you don't get stuck with interest. If you doubt your willpower, then don't hesitate to shred up your credit cards. You won't be the first or the last person to be freed from the power of credit cards.
Payments
In order to save money, you have to make the right sort of payments. Be sure that you pay your taxes and that you do so on time. Tax debt can lead to financial ruin, so keep on top of this responsibility. Pay off loans and debts so they don't increase and you're stuck in an impossible situation. Do what you can to be able to make those payments for school loans and hospital bills. Another payment to carefully maintain is insurance coverage. Imagine what would happen if you didn't regularly pay for health and home coverage. Medical bills could take years and years to pay off, and damage to your home could put you on the street. Last, be sure you secure a savings fund. You never know when a rainy day may come along or if you might be out of a job. Save up enough for 6 months without a steady income. For more tips and suggestions, consult Hope Credit Solutions.
Photo Credit:
Flickr-Debt Consolidation
Related Post you may like:
Respite from debt via negotiation
Tax Debt Help – How To Recover From A Tax Debt
Rise from Debt and Retire Financially Free
Tags: break free from debt debt consolidation debt relief debt relief program financial tips loan loan consolidation settlement company